Water Capital Improvement Fees – Potable Water
| | | | | | |
| --- | --- | --- | --- | --- | --- |
| Meter Size (Inches) | Capacity | Meter Fee | Area III | Area II | Area I |
| 3/4″ | 15 gpm | $216.61 | $2,500.00 | $3,600.00 | $4,800.00 |
| 1″ | 25 gpm | $301.26 | $4,175.00 | $6,000.00 | $8,025.00 |
| 1-1/2″ Omni R2 | 50 gpm | $578.98 | $8,325.00 | $12,000.00 | $16,000.00 |
| 2″ Omni R2 | 160 gpm | $812.34 | $13,325.00 | $19,200.00 | $25,575.00 |
| 3″ Omni T2 | 350 gpm | $1,467.26 | $26,650.00 | $38,375.00 | $51,175.00 |
| 4″ Omni T2 | 1000 gpm | $2,855.87 | $40,825.00 | $59,175.00 | $81,675.00 |
| 6″ Omni T3 | 2000 gpm | $4,502.74 | $79,675.00 | $118,350.00 | $158,500.00 |
Water Meter Fees – Non-Potable Water
| | | |
| --- | --- | --- |
| Meter Size (Inches) | Capacity | Meter Fee |
| 1″ SRII TRPL Reclaimed | 25 gpm | $314.33 |
| 1-1/2″ Omni R2 | 120 gpm | $667.86 |
| 2″ Omni R2 Reclaimed | 160 gpm | $901.23 |
| 3″ Omni T2 Reclaimed | 350 gpm | $1,556.14 |
| 4″ Omni T2 Reclaimed | 1000 gpm | $2,944.75 |
| 6″ Omni T2 Reclaimed | 2000 gpm | $4,591.62 |
Private Fire Service Line Capital Fees
Meter Size
Meter Fee
6″ or smaller
$1,000
8″
$1,500
10″
$2,000
In addition to the Private Fire Line Capital Fees, Plan Check Fee and Inspection Fees will be charged for new developments based on the cost of improvements.
Note 1: For all meters larger than 1-1/2 inches, additional material and labor required for installation will be invoiced separately. Inspection fees:  $50 per hour
 Water Capital Improvement Fee Zones
Area I
South of Adolfo Road, from Calleguas Creek to
Conejo Creek; then south of the 101 Fwy east of Conejo Creek.
Area II
Mission Oaks and Santa Rosa Valley Between
Areas I and III
Area III
South and east of the junction of the west
end of Andalusia Drive and Santa Rosa Road; the east of Moorpark Road and
Santa Rosa Road to the District's northern boundary.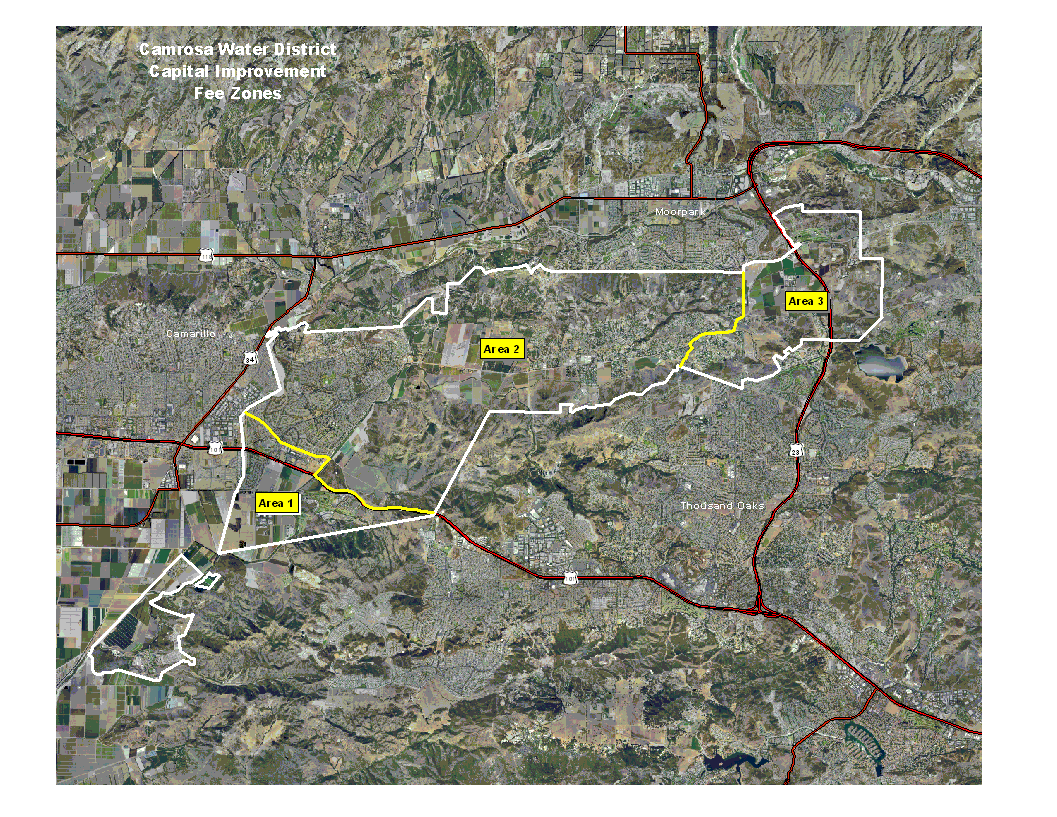 Sewer Capital Improvement Fees
| | |
| --- | --- |
| Sewer Connection Fee: | $4,675 per dwelling unit or equivalent |
| Sewer Permit Fee: | $20 per dwelling unit or equivalent |
| Inspection Fees: | $50 per hour |